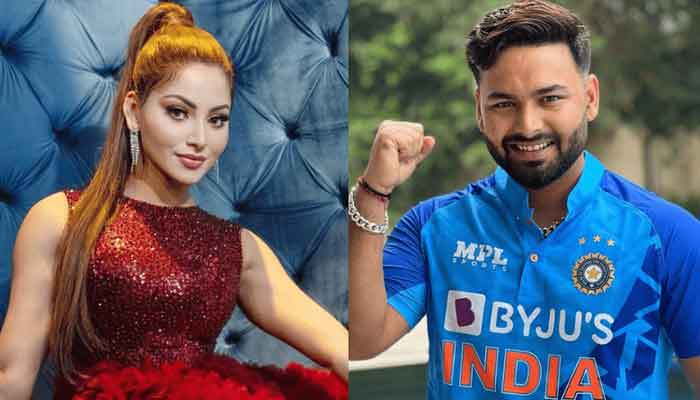 Indian actress Urvashi Rotila has been in the news for her alleged relationship with Indian cricket team's wicketkeeper batsman Rishabh Pant and controversial social media statements.

In the ongoing T20 World Cup in Australia, when Rishabh Pant came to Arshad Singh who was fielding on the boundary, the spectators started chanting Arvashi, but Rishabh Pant did not pay any attention to the slogans.
This is not the first time when Rishabh Pant has to listen to the voices in the ground regarding Urvashi Rotila, earlier also many times Urvashi Rotila and Rishabh Pant have been linked together. Not only this, Urvashi Rotila had also tweeted about Naseem Shah in the Asia Cup, on which Pakistani users took her in with open arms.
However, now it has been reported in Indian media reports that social media users and fans of Urvashi's relationship with the RP is actually not Indian cricketer Rishabh Pant but someone else.
According to Indian media, that RP is actually Telugu film star Ram Puthenini and Urvashi Rotila has cleared all the rumors by sharing her picture with film star RP.
On behalf of Urvashi, sharing a picture with Rampothinini on social media, thousands of people not only liked it but also asked questions.
A user on social media asked if this is RP then someone said Rishabh Pant is watching you, another user wrote don't forget Rishabh Pant while another user said what will Rishabh Pant do now.
After Urvashi Rotila shared the picture on Instagram, users are saying that the picture is being used as a publicity stunt by the actress, Telugu film star Ram Puthinini said. No statement has come out yet.
It is to be remembered that in 2018, the news of Indian actress and Indian cricketer Rishabh's dating went viral, but soon both of them parted ways. Later, Urvashi said in an interview that she made Rishabh Pant wait for 10 hours in the hotel. But the Indian cricketer responded and called it a lie and nonsense.