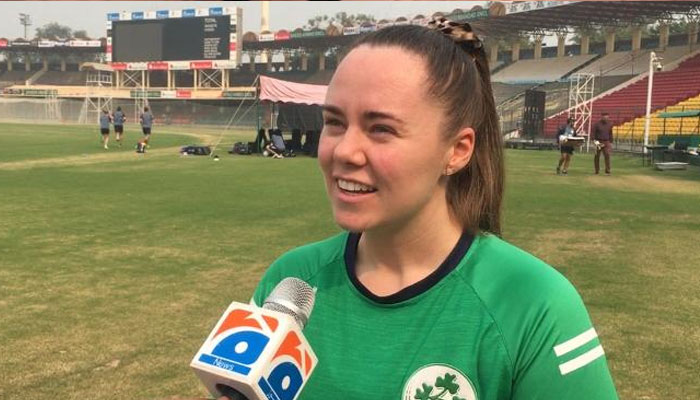 Ireland women's cricket captain Laura Delaney described the weather in Lahore as a challenge and said that hopefully we will adapt to the weather soon.
Ireland women cricket team is currently on a tour of Pakistan where the team has to play a series of 3 ODI and 3 T20 matches at Gaddafi Stadium Lahore.
Irish captain Laura Delaney in an exclusive conversation with Geo News said that we received a very good welcome on arrival in Pakistan, we have a good chance to face a quality team on their home ground. It will be tough, but we are delighted to be the first Irish team to come to Pakistan.
Facing Pakistan team will be a challenge for us: Laura Delaney
According to Laura Delaney, looking forward to playing at the Gaddafi Stadium in Lahore, the match against the Pakistan team will be a challenge for us.
Talking about the weather situation in Pakistan, Laura Delaney said that the weather here is a challenge for us, the temperature in Dublin is 8 to 10 degrees Celsius, it keeps raining, when we reached the airport it was raining all the way, so There is definitely a lot of difference in weather.
According to Laura Delaney, at the beginning of September we visited Abu Dhabi to assess the weather, having tried to live in the high temperatures in Ireland before arriving. It's the first match, hopefully the weather will adjust.
He added, "I am looking forward to eating local food here, hopefully it will be delicious. We have had good food here since yesterday, the food was good in the hotel and also in the dressing room, but now we have to eat local food."