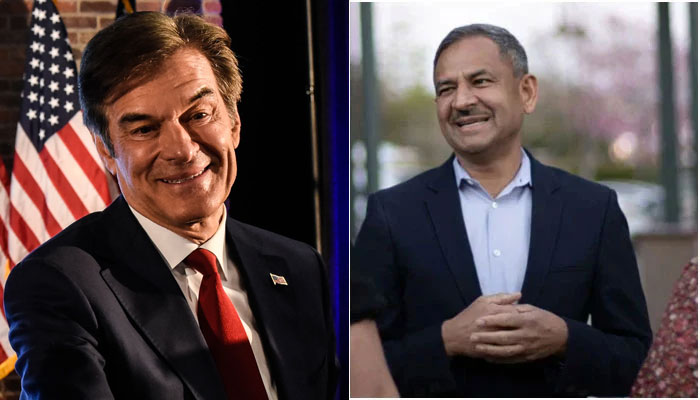 In the American mid-term elections, Dr. Asif Mahmood of Pakistani origin was drowned by Biden and Dr. Oz of Turkish origin was close to former President Trump.

The defeat of Dr. Asif in the mid-term elections ended the hope of a Pakistani being elected to the US House of Representatives, while the defeat of Dr. Oz has also blocked the way for the first Muslim senator to enter the US Senate.
Dr. Asif Mehmood was a candidate for Congress from California's District 40 and he faced Congressman Yong Kim from District 39 last time on the Republican Party ticket.
Republican candidate Yong Kim got 199,992 votes, while Pakistani American Dr. Asif Mahmood got 77,939 votes.
Vice President Kamala Harris and former presidential candidate Hillary Clinton were among those who endorsed Dr. Asif.
About 2 lakh votes are yet to be counted in this constituency, but seeing the difference in votes, Dr. Asif Mehmood has accepted defeat.
Dr. Asif Mahmood said that the process of counting votes is still going on, but he does not see the hope of a definite victory, but he also made it clear that his struggle will continue.
District 40, from which Dr. Asif Mehmood, who hails from Kharian, was contesting the election, has come into being due to new constituencies, including some areas that have a significant number of Republican voters.
One of the major reasons for Dr. Asif Mahmood's failure is President Joe Biden, who is extremely unpopular due to record inflation in the United States, and because of this, this election has fallen heavily on the Democrats.
When Joe Biden came to California a few weeks before the election, Dr. Asif Mahmood met with him, but even the photo of the meeting was not brought to the media because Yong Kim had already severely criticized Joe Biden's policies and made the environment right. I was done.
On the other hand, Turkish-American Dr. Mehmet Oz was running for the US Senate on the Republican Party ticket from the state of Pennsylvania, he is a successful heart surgeon and a popular TV host.
Dr. Oz was competing with the Democrat candidate John Fetterman who got 26 lakh 37 thousand 598 votes while Dr. Oz got 24 lakh 60 thousand 602 votes.
Among those who endorsed Dr. Mehmet was former US President Donald Trump, who in 2017 imposed a travel ban on citizens of Muslim-majority countries.
Had Dr. Oz succeeded, he would have become the first Muslim American senator to become a member of the US Senate.
The main reason for his defeat was his participation in a rally with former President Donald Trump in the last week of the election campaign, as the moderate voters of the region were very angry with the former president's policies and instead of staying away from Trump, Dr. Oz embraced the former president. A necklace was made.