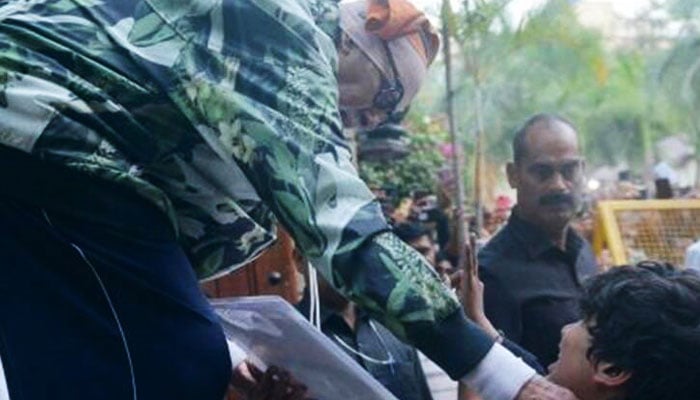 Bollywood king Amitabh Bachchan is among those Indian actors who are adored by their fans and are ready to go to any extent to catch a glimpse of him.
Amitabh Bachchan's house 'Jalsa' is located in Juhu area of ​​Mumbai where he visits his fans every Sunday, thousands of people are there to catch a glimpse of Amitabh.
On this Sunday too, Amitabh Bachchan came to meet his loved ones outside the 'Jalsa'. Strict security arrangements were made on this occasion, but a young child broke the security fence and fell at Amitabh Bachchan's feet.
In this regard, Amitabh Bachchan himself told the whole story in his blog. Sharing a picture of the child, Big B said, 'And today this is our little friend, who watched Don at the age of 4 and was heartbroken, memorized his dialogues, copied my acting and from Indore. He went to meet me, after a long time he had tears in his eyes and fell at my feet.'
Amitabh further wrote that 'I comforted him as he ran to me after breaking the security fence, he autographed the paintings I had done, his father had sent me a letter too. I fell, these are the feelings of my loved ones that make me wonder what, how, when and why. I!'
It should be noted that Amitabh Bachchan's recently released film Aaksha is a story of four friends and its main idea is to take up the challenge of climbing Mt Everest to fulfill a friend's wish.