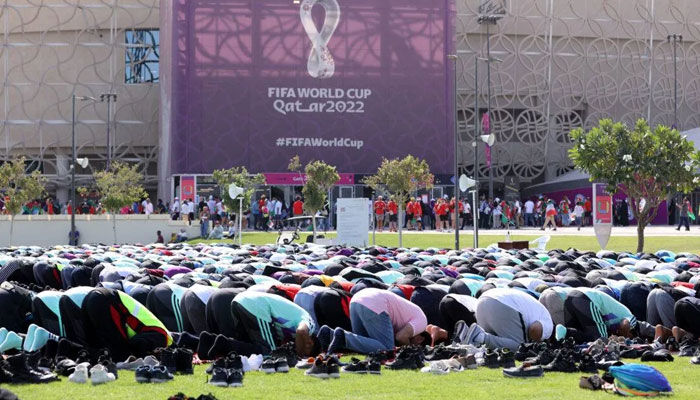 The battle to win the FIFA Football World Cup 2022 trophy between the 32 teams of the world began in Qatar on Sunday, November 20.
This is the first time that the football world cup is being held in a Muslim country. After 5 days of action, the first Friday of the current world cup came yesterday and Friday has a lot of importance in Islamic countries.
How was the first Friday of the first FIFA World Cup in a Muslim country?
According to the British news agency Reuters, as soon as the afternoon came, the call to Friday prayer was given in the mosques in Qatar, after which the Muslim players, Muslim fans and match officials in Qatar performed the Friday prayer in the mosques.
A Friday gathering was also held at the Ibrahim Al-Khalil Mosque in Doha, where a large number of Muslims participated.
According to the reports, the Muslim football fans who came to Qatar for the World Cup said that they have never seen the kind of facilities that Qatar has provided us. There is a place for prayer in the stadiums, and halal food has been arranged for us. While the best part is that there is a ban on carrying alcohol in the stadiums.
Speaking to the news agency, Yusuf, a football fan who came from Morocco to watch the World Cup in Qatar, said that I performed Friday prayers in an Islamic country, this is what gives me the most joy in this tournament.
It should be noted that Islamic values ​​have been highlighted in Qatar since the beginning of the event, from the recitation of the Quran in the opening ceremony of the World Cup to the display of the teachings of the Prophet in Doha.
On the other hand, Qatar has faced criticism from some countries for its strict laws regarding women and gays. Currently, Muslim fans are enjoying the tournament.