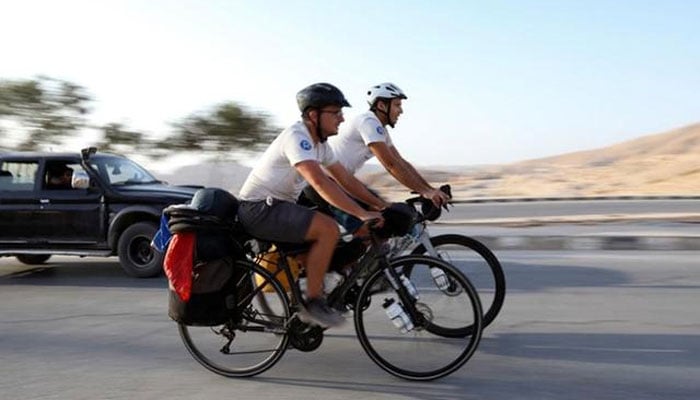 It is every fan's dream to watch their favorite team's matches in the football world cup stadium for which they fly to the host country.

But two people from France cycled from their country to Qatar to fulfill this dream.
Gabriel Martin and Mehdi Balamissa cycled 4,350 miles over 3 months to Qatar to watch their team play France.
Mehdi Balamissa has one The interview I said it was crazy but we like ideas like that and we don't regret it.
He said that since we are not employed by anyone, we decided to go to Qatar by bicycle.
The journey started from the Stade de France stadium in Paris and ended at the Lusail Stadium in Qatar where the final of the Football World Cup will be played.
The two friends covered an average distance of 115 km per day.
Earlier, both of them had cycled from France to Italy to watch the Euro Cup in 2021 and based on that experience, they decided to go to Qatar.
After arriving in Qatar, the French Football Federation (FFF) invited the two friends to meet the team and provided tickets for all three group stage matches.
France manager Didier Deschamps also gave the two friends French team jerseys which were signed by all the players.
Mehdi Balamissa said that most of the French people even offered to take us to different places in Qatar.
Both of them had passed through 13 different countries to reach Qatar and during this time they also faced various difficulties but their enthusiasm did not decrease.
He also told about an interesting incident that happened in Saudi Arabia.
When they both left Riyadh, Saudi city, finding a shop to repair the bicycle became a problem and after 15 hours they reached the same place from where they left.
They said that during the journey they mostly lived on the open road and occasionally a local person would feed them.