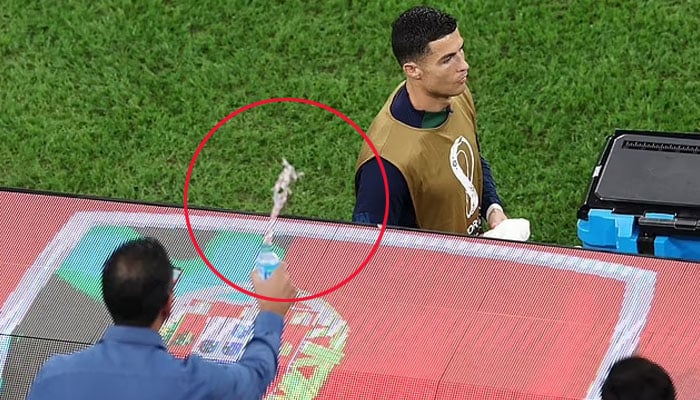 An angry fan threw water on Cristiano Ronaldo ahead of the third quarter-final of the 2022 FIFA World Cup in Qatar.
According to the British news agency, the incident of throwing water on Portugal's captain Cristiano Ronaldo happened before the third quarter-final of the FIFA World Cup between Portugal and Morocco.
According to reports, Ronaldo came out of the dugout when a person sitting in the audience threw water from a bottle at him, the footballer did not show any reaction, but Ronaldo's fans rushed at the said person.
However, as soon as this incident took place, the security guards kicked the said person out of the ground.
It should be remembered that in the quarter-finals of FIFA World Cup 2022, Morocco reached the semi-finals after defeating Ronaldo's team Portugal.
Morocco beat Portugal 0-1 to reach the semi-finals for the first time and also ended Ronaldo's dream of winning the World Cup.
Portugal's star player Ronaldo left the ground in tears after the match ended, the video of Ronaldo crying saddened his fans around the world.