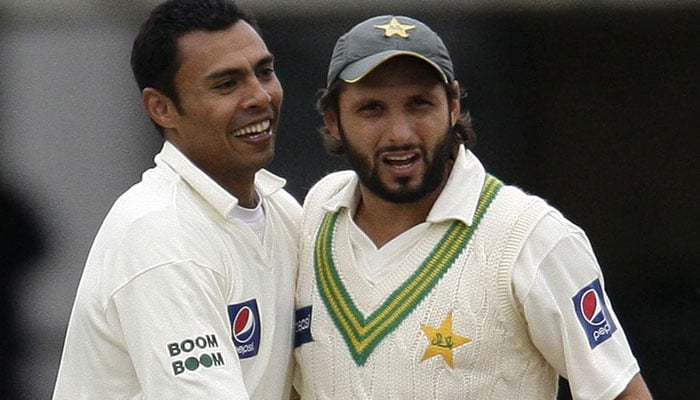 The former leg-spinner of Pakistan cricket team Danish Kaneria was paid dearly for his sarcastic tweet against the chief selector of the national cricket team, Shahid Afridi.
PCB Management Committee Chairman Najam Sethi announced the interim selection committee on Saturday and appointed former captain Shahid Afridi as the chairman of the interim selection committee for the home series against New Zealand.
Taking a dig at Shahid Afridi's appointment as the chairman of the interim selection committee, Danish Kaneria uploaded a picture of Afridi chewing the ball during an ODI match against Australia in 2010 and wrote 'Chief Selector' with a laughing emoji.
It should be noted that during the tour of Australia in 2010, in the ODI match, the national team captain Shahid Afridi was seen chewing the ball with his teeth while fielding.
Taking action on Afridi's action, Shahid Afridi was banned for 2 T20 matches on the charge of ball tampering by ICC.
However, social media users slammed Danish Kaneria's sarcastic tweet and reminded him of his alleged match-fixing in the past.
It should be remembered that in 2012, the English Cricket Board banned Danish Kaneria for life for the crime of inciting cricketer Westfield to fix.
After being banned for life in the fixing case, former leg-spinner of the national cricket team, Danish Kaneria, admitted the mistake after 6 years.
Danish Kaneria said that Westfield wanted to earn wealth and it was my duty to warn him but I did not and I deliberately introduced Mervin Westfield to the suspicious person Anubhat.
The former leg-spinner apologised, saying, "I am sorry to all my fans, Pakistanis and Essex County colleagues, I am ashamed of my mistake and I deeply regret what happened."