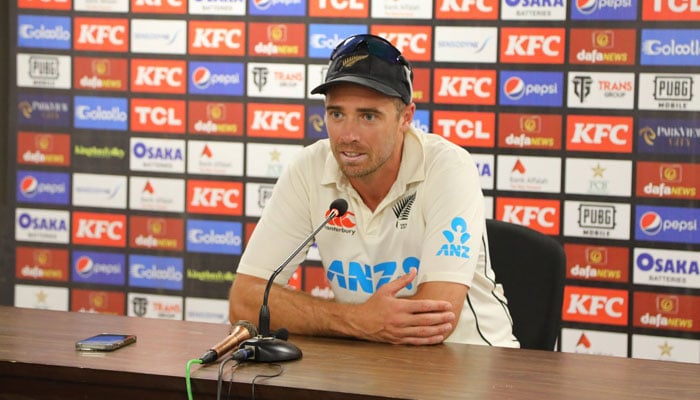 New Zealand captain Tim Southee says that our effort was to achieve the target given by Pakistan.
The first Test between Pakistan and New Zealand played in Karachi was a draw.
Pakistan declared their second innings on the last day of the Karachi Test after which New Zealand had a target of 138 runs in the remaining 15 overs.
The players of New Zealand tried to achieve the target by playing fast, but the game was ended due to low light at the loss of one wicket in the 8th overs and the first test of the series of two test matches was drawn.
While giving a press conference after the match, Kiwi captain Tim Southee said that we tried hard to get the result of the test match, we could not achieve the target due to lack of light.
He said that Pakistan gave us a tough time today, it was a challenging Test, Kane Williamson played a good innings, we had time to get Pakistan out.
He said that Babar surprised by declaring, the pitch was quite difficult, in these conditions it is difficult for fast bowlers, something has to be done to take a wicket, Kiwi bowler Ash Sodhi bowled very well.