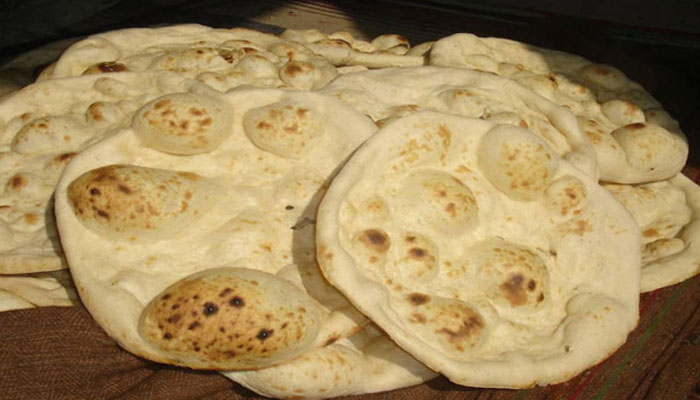 Across the country, bread has become beyond the reach of the poor and citizens are deeply worried about the rise in flour prices.

The common man in Pakistan is dealing with the new wave of inflation day by day, the rising prices of expensive flour and bread have raised the cries of the people.
Citizens across Punjab, including Lahore, are worried about the increase in flour prices and are also forced to buy bread from outside due to gas shortage, but even there the prices of bread and bread are increasing day by day.
Commissioner Lahore has refused to increase the price of bread, while Non-Buy Association has announced a protest on Thursday for not increasing the price of bread.
Chairman of Flour Mills Association Asim Raza says that this problem will not be solved until the quota of government wheat is increased.
On the other hand, the spokesperson and deputy director of the food department, Miss Naeem Afzal, says that flour mills are being given plenty of wheat, cheap flour is also being sold on trucks, there is a shortage of official flour and the price has not been increased. They are also taking action against the mills on the regulations.
Bakers in Peshawar have increased the price of bread by 10 rupees, 170 grams of bread has increased from 20 rupees to 30 rupees.
The increasing prices of flour in Khyber Pakhtunkhwa have made it impossible for the people to live, it has become difficult for the citizens to get official flour. According to the government and flour mill owners, there is no shortage of wheat in the country and the province.
The annual wheat requirement of the province is 50 lakh metric tons of which 12 lakh is produced in the province while the rest is imported from Punjab.
Meanwhile, flour and wheat crisis continues in Balochistan including Quetta, ten thousand sacks of wheat purchased from Pasco have reached Quetta, which is likely to reduce the crisis.
Flour has reached Rs 150 per kg in Larkana, hotel owners have also increased the prices of roti and curry by 40%.
Citizens say that the Price Control Committee is inactive and completely absent.