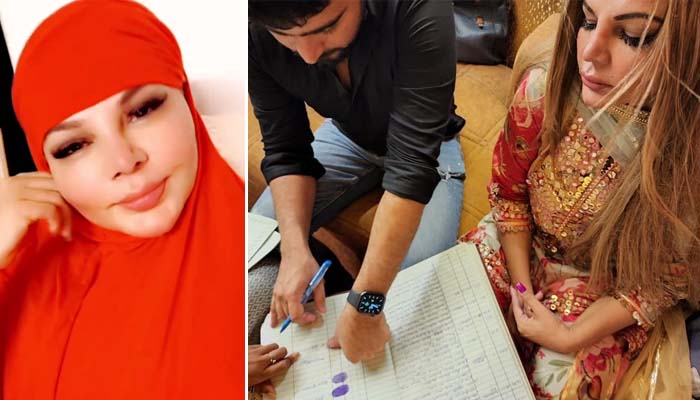 Indian actress and dancer Rakhi Sawant's brother Rakesh's reaction to getting married after reciting kalma, naming Fatima and marrying Adil Durrani came out.
Recently, Rakhi surprised her fans by sharing pictures and videos of her wedding with Adil Khan on social media. went.
On the marriage certificate of Rakhi and Adil, 'Fatima' is written along with the name of the actress, after which Rakhi also shared the news about changing her name on social media, from which the authenticity of these news can be estimated.
Now the actress' brother Rakesh has broken the silence in this regard.
Rakesh gave an interview to the Indian media and said, "I don't know about his conversion to Islam and changing his name, these are mutual things between husband and wife."
Rakesh said, 'If Rakhi has done this, she must have done it very thoughtfully, she must have taken this step on her own account, we all are under tension at this time, Rakhi is the youngest in the house and she has been very busy all her life. Have seen the suffering'.
The actress' brother said, 'Riteish (first husband) tried to use Rakhi in Bigg Boss which made Rakhi sad, that's why Rakhi is now fully married'.
On the other hand, Rakhi's husband Adil Durrani also refused Rakhi's marriage, calling all the videos and photos of the marriage fake.
In this regard, a video of Rakhi is also viral in which she is crying and saying that it is beyond my understanding to take care of my mother who is in the hospital, or see Adil refusing.