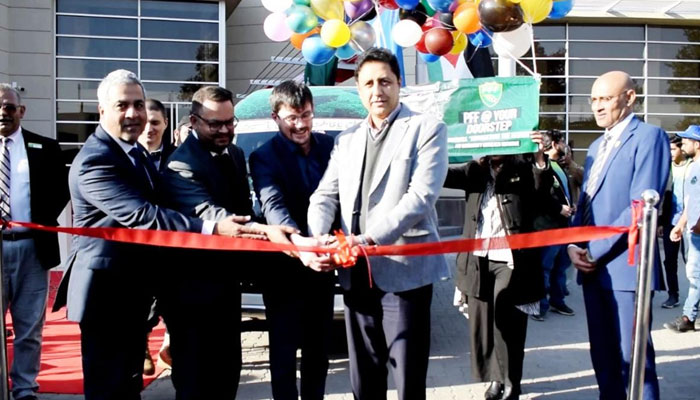 A delegation from FIFA and the Asian Football Confederation (AFC) met the members of the Normalization Committee (NC) of the Pakistan Football Federation (PFF) at the Pakistan Football House in Lahore on Monday.
The guest officials included Head of MA Governance FIFA Rolf Tanner, Regional Development Office Coordinator Andrey Vishkovich, AFC Head of South Asia Unit Prashotham Kittal.
On this occasion, FIFA and AFC officials also participated in the inauguration ceremony of the mobile unit to be introduced for the registration of clubs under Pakistan Football Connect ID.
Inaugurated by Sports Board Punjab DG Tariq Qureshi, PFF Normalization Committee Chairman Haroon Malik and Shahid Niaz Khokhar and other members were also present on the occasion.
Speaking on the occasion, Saud Hashmi, Head of Pakistan Football Connect Program, said that the clubs who could not be part of the registration process due to floods and bad weather are being facilitated at their doorsteps, the mobile unit will be provided with their schedule. Accordingly, it will continue its activities in different parts of the country.
DG Sports Board Punjab Tariq Qureshi said that FIFA welcomes the AFC delegation to Pakistan. Together, the clubs will organize tournaments to revive football.
On the other hand, FIFA and AFC delegation spent a busy day at Football House, had a detailed meeting with PFF Normalization Committee Chairman Haroon Malik, the guest officials were briefed about the football situation in Pakistan, ongoing activities at the national and international level and management. A briefing was given on the issues.
Talking to the media, Haroon Malik said that the series of meetings with the delegation is going on, the visiting officials have expressed their satisfaction on the steps taken by us so far, the delegation will give its report regarding Pakistan football, which will be highlighted. I will decide the future course of action.
During the event, the music of PFF's official anthem was also launched, which was appreciated by the audience.