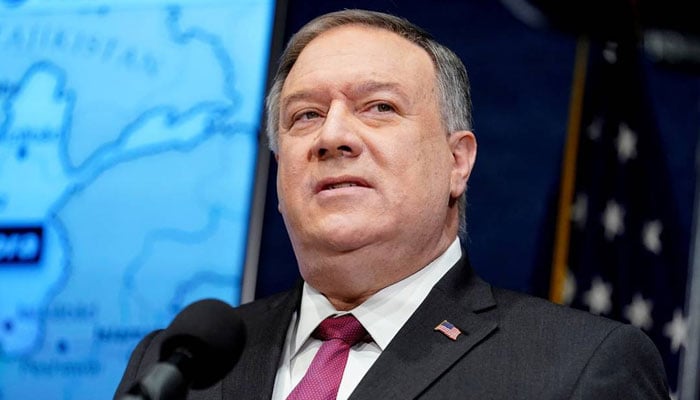 Former US Secretary of State Mike Pompeo has revealed that Pakistan and India came close to nuclear war in 2019.
According to foreign media reports, former US Secretary of State Mike Pompeo has made several revelations in his new book 'Never Give an Inch: Fighting for the America I Love'.
The former US Secretary of State says that the world does not know how close Pakistan and India came to a nuclear war in February 2019, US intervention stopped the tension between Pakistan and India.
According to Pompeo, after the death of 41 Indian personnel in Occupied Kashmir, India carried out airstrikes, Pakistan shot down an Indian warplane and captured the pilot. I was in Hanoi at that time for a conference.
The former US Secretary of State said in his book that he was woken up by an urgent phone call from a senior Indian official. The Indian official believed that Pakistan had started preparations for a nuclear attack. He said that India was considering a move. , to which I said don't do anything, give us time to sort things out.
According to Pompeo, U.S. diplomats convinced both Pakistan and India not to go to nuclear war, something no nation could have done to avoid a terrible outcome that night.
Background of India-Pakistan tensions in February 2019
On February 14, 2019, there was a suicide attack on an Indian military convoy in Pulwama district of Occupied Kashmir, in which more than 45 personnel were killed. After that, India started blaming Pakistan for the attack without any evidence.
After that, on February 26, from 3:00 PM to 3:30 AM, they tried to violate the Pakistani border from three places, two of which were Sialkot and Bahawalpur. The Indian planes came inwards and were intercepted by the Pakistan Air Force planes, on which the Indian planes dropped their 'payload' and fled back.
Pakistan strongly condemned this incident and gave a clear message to India that Pakistan will respond to this provocation at its own time and place, now India should wait for Pakistan's surprise.
Later, on the morning of February 27, Pakistan Air Force aircraft engaged 6 targets in Occupied Kashmir on the Line of Control. The strike in place was meant to show that Pakistan has the retaliatory capability, but Pakistan does not want to do anything that would make it appear irresponsible.
When the Pakistan Air Force took the target, after that 2 Indian Air Force planes again crossed the LoC and came towards Pakistan, but this time the Pakistan Air Force was ready and shot down both the Indian planes, one Azad Kashmir plane. While the second one fell within the boundaries of Occupied Kashmir.
The pilot of the plane that crashed in Pakistan's territory was detained by Pakistan, whose name was Wing Commander Abhinandan, who was later handed over to the Indian authorities through the Wagah border in a dignified manner.