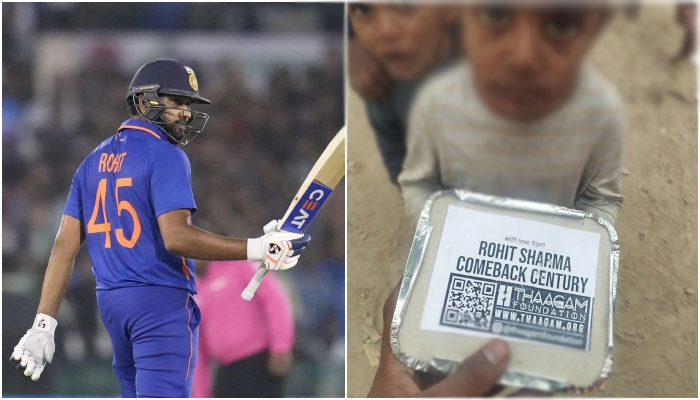 Every player has good and bad times in sports, in cricket too, sometimes the players pile up runs and sometimes fail to score big.
Such a bad time also happened to Indian captain Rohit Sharma who used to score double centuries when he came to form but his bat has been silent for the last 3 years and he failed to score a century in ODI cricket.
However, this disbelief was shattered in the recent series against New Zealand, when the Indian skipper delighted his fans by scoring a magnificent century in the third and final ODI on January 24.
Fans of the Indian captain distributed food among the poor in celebration of their favorite player scoring a century in ODIs after 3 years.
According to Indian media reports, in celebration of Rohit Sharma's comeback, his fans who run an NGO put food in plastic boxes and distributed it to poor children.
In the viral picture on social media, it can be seen that a child is holding a food box with 'Rohit Sharma's Comeback Century' written on the box.
It should be noted that India made a mountain-like score of 386 runs against New Zealand in the third ODI. Captain Rohit Sharma played an innings of 101 runs while scoring the 30th century of his ODI career, in addition to this, Shibman Gul also scored 112 runs. Make
Rohit Sharma's last century in ODI cricket was against Australia in 2020, which is why his fans were eager for a big innings from the Indian captain in ODIs.
India beat New Zealand by 90 runs in the third and final ODI to win the series 0-3.