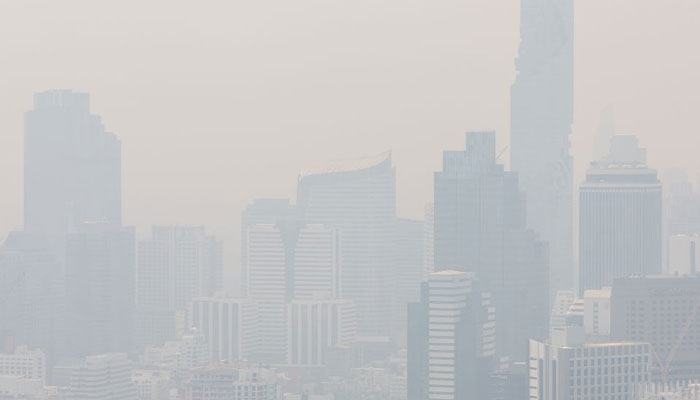 The problem of air pollution is getting serious all over the world including Pakistan.

But in one country, the air pollution situation has become so bad that people in the capital and adjoining provinces have been advised to stay indoors.
Air pollution levels in Bangkok, the capital of Thailand, and adjacent provinces have increased 14 times higher than the safe level of the World Health Organization (WHO).
Levels of PM 2.5, the tiny and harmful particles of air pollution, have risen sharply and according to IQAir, Bangkok has become the sixth worst city in the world.
The air pollution control agency of Thailand said in a statement that the weather conditions have worsened as a result of the fumes emitted by vehicles and the burning of crops on agricultural land.
According to the statement, we have advised people to work from home to control air pollution and avoid activities outside the four walls of schools to protect people's health.
Residents of Bangkok have complained of breathing difficulties and impaired vision outside their homes.
"My eyes are burning, I could barely see around while traveling on a motorcycle," said a citizen.
According to the World Health Organization, 4.2 million people die prematurely every year as a result of air pollution.