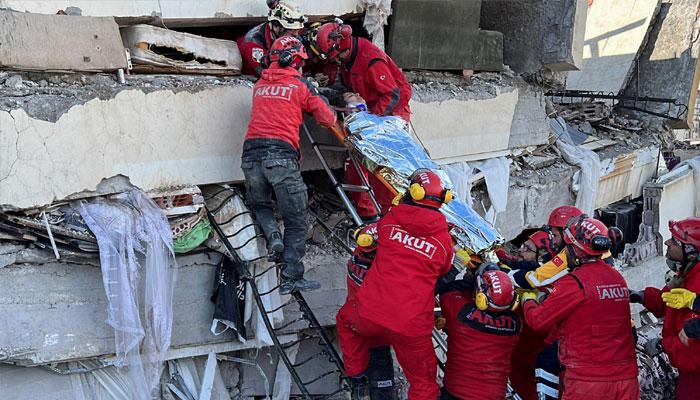 The death toll from the February 6 earthquake in Turkey and Syria has exceeded 36,000.
According to the foreign news agency, 31 thousand 643 people have died in Turkey and 4 thousand 614 people in Syria and the total number of deaths has reached 36 thousand 257.
The process of searching for people from the rubble of buildings destroyed by the earthquake continues and in Turkey, a 7-month-old baby was pulled out of the rubble after 140 hours, and a 13-year-old girl was also pulled out of the rubble after 136 hours, from another building. A 70-year-old Turkish woman was pulled from the wreckage.
A 6-year-old girl was pulled out alive after 178 hours in the Turkish city of Adi Yemen.
Turkish officials said that more than 2,000 aftershocks have occurred since the earthquake.
Meanwhile, the Turkish Ministry of Justice has detained 12 people while issuing arrest warrants for people involved in faulty construction.
It should be noted that 6,000 buildings have been destroyed in Turkey due to the earthquake that occurred on February 6. In this regard, the World Health Organization says that 26 million people have been affected in both countries. has been done
The United Nations has expressed fear that the number of deaths from earthquakes in Turkey and Syria may double.
The Secretary General of the United Nations has demanded that the Security Council allow the opening of cross-border aid centers between Turkey and Syria.