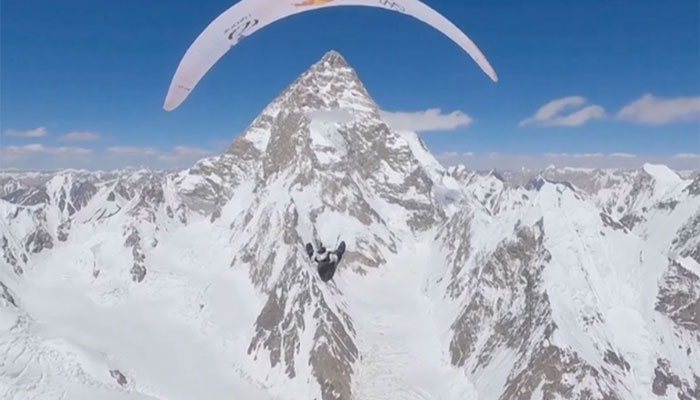 For the first time in history, 2 paragliders have flown close to the summit of 2 (K2), the second highest peak in the world.

Belgian paraglider Tom de Dorlodot and Spanish paraglider Horatio Llorens captured never-before-seen views of the K2 on camera.
'These scenes will always be etched in my mind, it was the first time a K2 had been flown and recorded,' said Tom de Dorlodot.
The two paragliders made the flight in July 2022, but now the video of the trip has been released.
They both made a base camp at Baltoro Glacier, 10,000 feet above sea level, and practiced short flights there for 4 weeks.
This was followed by a dozen 60-mile flights lasting between 5 and 6 hours.
But flying at 28,251 feet was a big challenge for the K-2 and Horatio Llorens said that flying in a place where there is no landing option is like flying over fire. Where there is no landing place.
During the flight by K-2, he went up to a height of 24,858 feet but could not reach the summit.
They tried again a week later but failed to fly over the peak the second time either.
Footage like this has never been seen before, said Tom de Dorludot.
It should be noted that the record for the highest paragliding in the world was made on another peak of Pakistan, Broad Peak, when a paraglider from France reached a height of 27,582 feet in 2016.