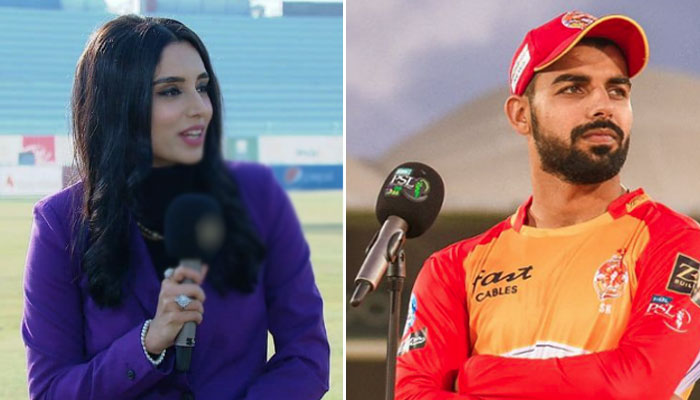 Islamabad United captain Shadab Khan asked presenter Zainab Abbas about marriage and performance.
After the victory against Quetta Gladiators yesterday, Shadab Khan became the guest of the pitch side show, during which the hosts Urooj Mumtaz and Zainab Abbas asked captain Shadab Khan interesting questions about the team's performance.
During the show, Zainab Abbas asked Shadab about Hasan Ali's complaint that Hassan has a complaint that you don't give time after marriage, later Zainab wanted to ask about marriage and performance?
In response, Shadab Khan laughingly asked why everything is coming to marriage. If my performance is not coming, it has nothing to do with marriage, shouldn't a person get married?
Shadab asked Zainab, did you get promoted after marriage? In response to which Zainab said that my performance has become better after marriage.
Shadab said that marriage has nothing to do with performance, talk about performance in cricket not marriage, marriage should not always be a question.
On the other hand, during the question and answer session, Urooj Mumtaz also complained to Shadab Khan about not inviting him to the wedding. I came and did not even salute, upon which Zainab immediately said that your salute is reserved.