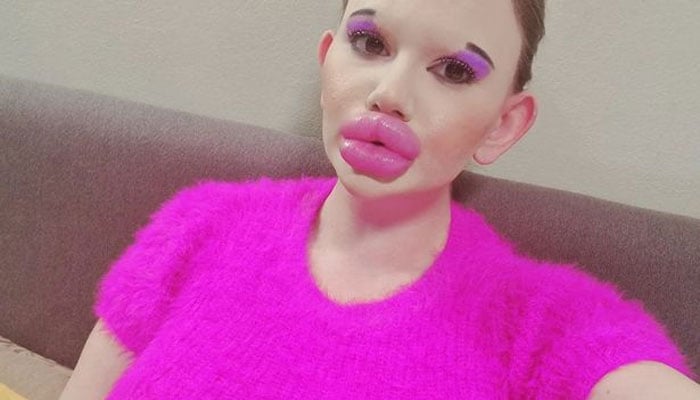 The Bulgarian social media star with the biggest lips in the world thinks her lips are still not as big as she wants them to be, the woman's obsession with big lips has her fans worried.
A woman named Andrea Ivanova started getting lip fillers in 2018 and has spent a lot of money to achieve this goal in her obsession with becoming the woman with the biggest lips in the world, but she still feels that her lips are Not as big as she wants.
Bulgarian Andrea Ivanova, 25, has already spent thousands on lip fillers and more than £1,600 on 'cheekbone' fillers, but the social media star believes she needs to get her lips bigger to set a new world record.
Andrea Ivanova has already had lip fillers several times and now various clinics have banned her from doing any more lip fillers because they believe it could cause health problems, but Ivanova believes she is still going to do it. Wants bigger lips and will do more injections.
"My lips are still not the biggest lips, I want bigger lips, I will get more fillers every month, I don't even remember how much money I spent on it," Andrea Ivanova said.
On the other hand, the social media star's fans have been worried about her obsession, when she shared a picture of her big lips on social media, fans expressed mixed reactions.
A user wrote, "Aren't you afraid that one day your lips might burst?" Another user wrote that please don't become just a pair of lips.