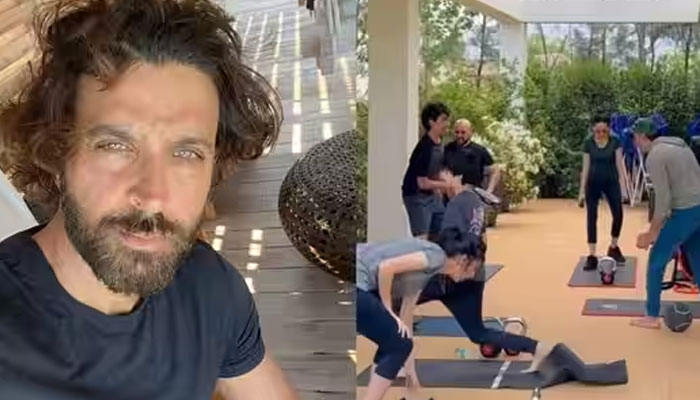 Yesterday in India, while citizens were busy celebrating Holi, Bollywood star Hrithik Roshan and his family preferred their health over color and cannabis on Holi.
Hrithik Roshan is considered to be one of the fittest actors in Bollywood, that's why he didn't play with colors like others on the occasion of Holi, but he and his family spent the day of Holi exercising.
Yesterday, Hrithik Roshan posted a video of celebrating Holi in a unique way on Instagram, in which his two sons, ex-wife Sussanne and her boyfriend were seen exercising.
The Bollywood actor wrote in the caption of the video that 'No Rang, No Bhang, Only Fun'. At the same time, he congratulated his fans on Holi and asked them how everyone is celebrating Holi.
It should be noted that the wedding month of Hrithik Roshan and his girlfriend Saba Azad has come out.
An Indian website has claimed that the actor duo will tie the knot in November this year.
However, Hrithik has not officially acknowledged his relationship so far, but in the last one year, Saba Azad was seen together with the actor on several occasions.
Saba Azad's name is 'Saba Singh Grewal' and she is an actress as well as a singer and a theater director.
It should be noted that Hrithik got divorced from his first wife Suzain Khan in 2014.