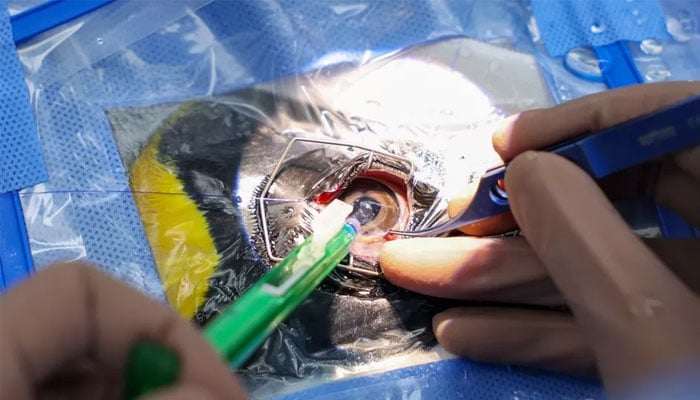 A team of doctors in Singapore has performed the world's first-of-its-kind operation on a white cataract in a penguin's eye.
A team of 5 doctors at an animal hospital in Singapore created a new history in the world of veterinary medicine by successfully operating cataracts in the eyes of 3 king penguins and 3 humboldt penguins.
Dr. Alan Rassidy of the Mandai Wildlife Group, which manages more than 21,000 animals of more than 1,000 species from around the world in four wildlife parks in Singapore, said that we observed that penguins have difficulty seeing things in front of them. Due to which he was cut off from the water and his group.
"Usually these kinds of problems occur with some animals as they get older, but we put lenses in their eyes that were used in penguins and put them in eye drops," he said. But there was no change in the situation after which it was decided to operate on cataracts in his eyes.
The head of the operation team, Dr. Glady Bo, said that due to being a large animal, penguins have large eyes that can be fitted with lenses, that's why we decided to do the first operation of its kind in the world.
He said that the operation was a bit complicated because of the third eyelid that protects the penguin's eyes from water because normally penguins don't blink their third eyelid but there was a risk of it closing during the operation.
All the penguins for the operation were brought from Jurong Bird Park, a famous tourist center in Singapore, where there are more than 5 thousand birds.
King penguins were brought to Singapore from the South Atlantic and South Indian Ocean, while Humboldt penguins were brought from America.