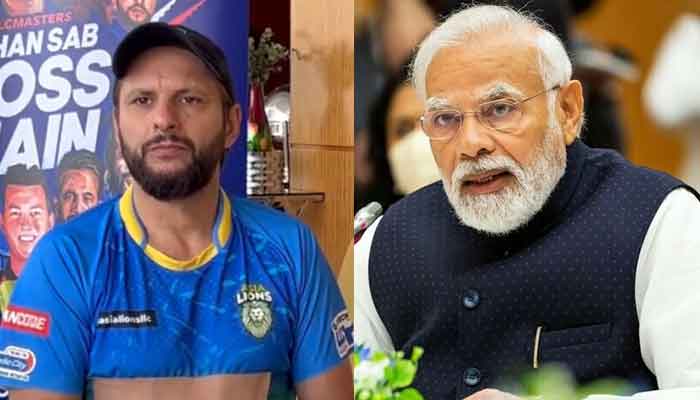 A lot of propaganda is being done in India regarding the answer of the former national team captain Shahid Afridi to the question related to Indian Prime Minister Narendra Modi.

Shahid Afridi went to Qatar to lead the Asia Lions in the Legends League Cricket where the World Giants team was also present along with the Indian team India Maharajas.
Shahid Afridi has a clear position regarding Occupied Kashmir and he has expressed it on several occasions, but once again Shahid Afridi was asked a question on this sensitive issue by an Indian journalist in Qatar. is spoken about and the defendant of Kashmir is also raised, then in such a situation how can you be expected to come to India and play.
On the question of Indian journalist, Shahid Afridi said that I have a clear position that anywhere in the world there will be oppressors and there will be oppressed people who are being oppressed. I will raise my voice.
Shahid Afridi further said that there is no doubt that I have spoken about Kashmir. , it is not only my responsibility but you are also human and according to me no religion is more beautiful than humanity.
He said that the wrong thing is wrong and the right thing is right but we should not turn away from reality and we should not close our eyes.
An attempt was made by the Indian journalist to provoke Shahid Afridi, to which Shahid Afridi replied that you are taking the matter elsewhere at the moment, I answered the question you asked. I have come here to play cricket, I don't want to make any such statement here, Indian players have also come here and are interacting with them, Suresh Raina has given me his bat, everything is going well. Increase love, don't increase hate.