Bollywood superstar Salman Khan as a background dancer at the engagement of Indian billionaire businessman Mukesh Ambani's daughter got the actor's fans excited.

Everyone knows that the Ambani family is very close to the cricket and Bollywood industry and this is the reason why film stars and cricketers are seen in every function of this billionaire businessman's family.
Not only this, but Bollywood stars actively participate in these events and perform special performances.
A video of one such old event from 2018 is going viral on social media nowadays, in which the top actor of the Indian film industry, Salman Khan, was seen as a background dancer in a performance during the engagement of Mickesh Ambani's daughter Esha. went.
In a video that has gone viral on social media, Mukesh Ambani's son Anat is seen dancing on stage to Shah Rukh Khan's song 'Koi Mil Gaya' along with his fiancee Radhika Merchant (now wife).
Meanwhile, behind Ananth and Radhika, Salman Khan is seen dancing along with other background dancers.
However, now that the video has gone viral, Salman Khan's fans are not happy to see their favorite actor as a background dancer.
"Made Salman Khan a background dancer," wrote a user with a crying emoji.
Another user wrote that 'I am not a fan of Salman Khan but what are they doing here? The Ambani family is treating Salman like a servant by making him a background dancer, I feel sad for the actor'.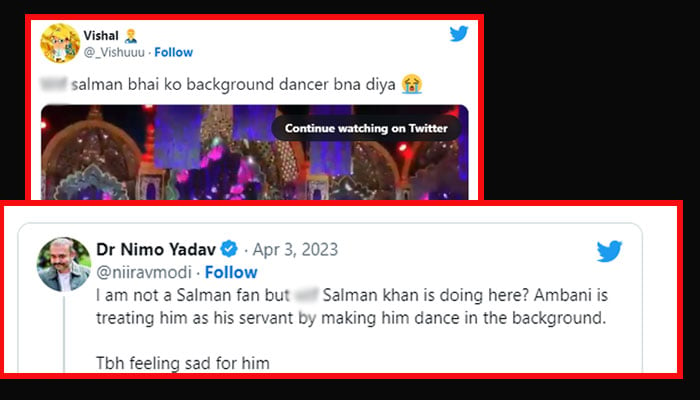 While Salman Khan fans were saddened to see their favorite actor as a background dancer, some users termed it as money power.