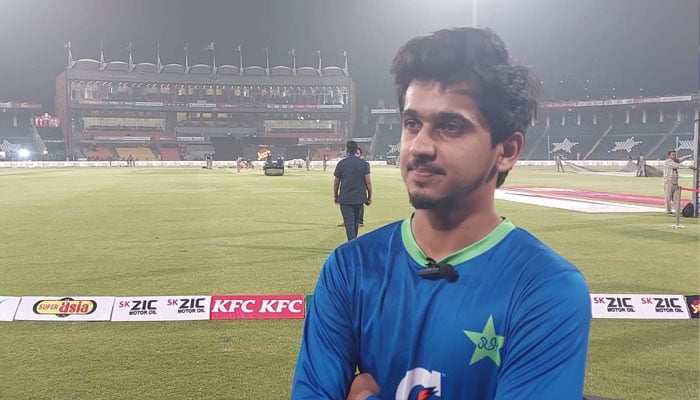 Pakistan cricket team batsman Saeem Ayub says that it was difficult to play the new ball, New Zealand bowled well in the power play.
Pakistan defeated New Zealand by 88 runs in the first match of the five-match T20 series on Friday.
Batting first, Pakistan set a target of 183 runs to the Kiwis for victory, young batsmen Saeem Ayub and Fakhar Zaman played an innings of 47 and 47 runs for the national team.
Chasing a target of 183 runs, the Kiwi team collapsed for 94 runs and the Green Shirts won the match by 88 runs.
Speaking to Geo News after the match, Pakistani batsman Saeem Ayub said that the plan was to play good shots and have a positive attitude. In modern cricket, one has to play aggressive cricket to stay in the team.
He said that it is very important to plan after seeing the strength of the rival team, everyone can bat, I learned how to play from Babar Azam, runs are scored in some innings, the main thing is to play with a regular plan. .
Saim Ayub said that he learned from Babar Azam how to plan, how to evaluate the opponent, what to do in which situation, there is disappointment when not getting fifty, but it is not that much of a problem, it was important for me that I Time to get your team out of trouble.
The young batsman added that to be the top team in the world, it is important to play aggressive cricket, my goal is only one, that is to perform in such a way that my team wins, the difference between the top order and the middle order is the new ball and the old ball. , I don't care what number I am, I plan and bet based on that number.
Saeem Ayub wished that we win all the matches against New Zealand and my runs played a role in that.