After Poland, another member of the European Union, Hungary, also decided to ban the import of food items from Ukraine.
After Poland, Hungary has also decided to ban the export of grain, sugar, fruits, vegetables, oilseeds, dairy products and meat from Ukraine.
According to the statement issued by the Polish Prime Minister's House, the ban was decided to protect the country's agricultural market from instability, while Hungary says that the export of substandard goods from Ukraine and the absence of targeted measures by the European Union. Due to this, it became inevitable to decide on a temporary ban.
Rejecting decisions by both member states to ban imports of Ukrainian food products, the European Union spokesperson said that the European Commission rejects the ban decisions by Poland and Hungary, individual member states of the Union. It does not have the power to formulate trade policy.
The spokesman said that no one can be given absolute permission to take unilateral measures by the European Union, it is very important to keep in mind that the authority of trade policy lies only with the European Union.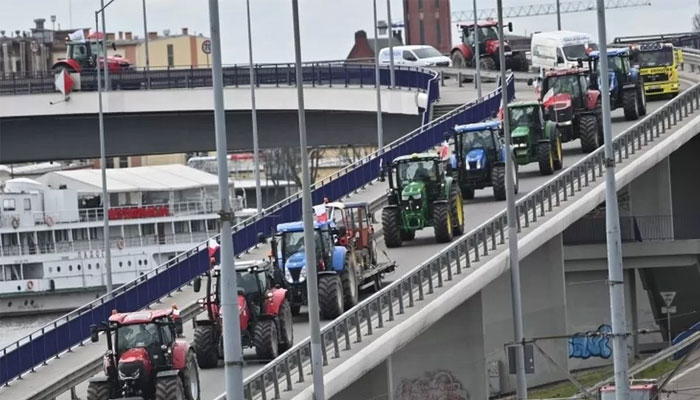 The spokesman of the European Union did not say what action the Union will take against the two countries, but he said that in this difficult time it becomes very important that the member states consult the European Union before making their decisions. Be sure to take it into confidence.
It should be noted that after the Russian attack on Ukraine by the European Union, the duties imposed on the imports of Ukrainian goods into the member states were abolished, after which the financial losses caused by the fall in the prices of local goods in the Polish market. Local settlers and people associated with the agricultural industry were in full protest.
Protesting farmers from Central and Eastern European countries parked tractors at border check posts in Romania and Bulgaria and blocked roads to prevent Ukrainian goods from entering their country.
The local farmers said that they could not compete with the very low prices of duty-free Ukrainian wheat, so the European Commission should compensate the losses of the local farmers. After the announcement of the extension till June 2024, the anger of local residents and industrialists had increased.
It should also be noted that apart from Poland and Hungary, the local agricultural industry in Bulgaria is also facing severe financial losses.