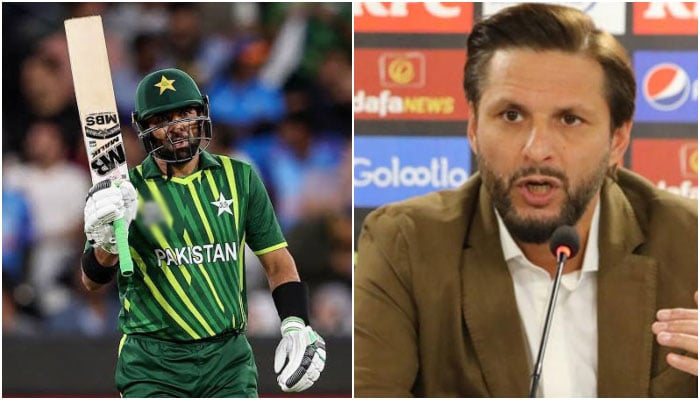 Former national cricket team captain Shahid Afridi could not help but praise Iftikhar Ahmed, who brought Pakistan close to victory with his aggressive innings in the third T20 match against New Zealand.
In the third match of the 5 T20 series played on Monday, New Zealand defeated Pakistan by 4 runs after a thrilling encounter.
New Zealand set a target of 164 runs while playing first, the green shirts got off to a disappointing start in pursuit of the target and half the team returned to the pavilion for 55 runs, but Iftikhar Ahmed batted responsibly.
In the 8th wicket partnership, Iftikhar and Faheem Ashraf gave Pakistan hope of victory, but then Faheem Ashraf was caught out after scoring 27 runs.
Pakistan needed 15 runs in the last over, then Iftikhar Ahmed hit a six and a four to bring the green shirts close to victory, but then he was caught out on the fourth ball of the over, after which Haris Rauf also took a catch on the last ball and Thus Pakistan team was piled on 159.
The Greenshirts lost by 4 runs, the Greenshirts lead the series 1-2.
Iftikhar Ahmed played an aggressive innings of 60 runs off 24 balls with the help of 6 sixes and 3 fours.
Shahid Afridi praised Iftikhar Ahmed while giving a statement on social media about Iftikhar's aggressive innings.
The former captain wrote that 'Iftikhar you are not an uncle to me, but a boom boom, but I wanted you to end the match with a win and it would be a memorable innings of yours'.
Shahid Afridi said that 'Overall it was a good game, the fans enjoyed themselves a lot, thanks to New Zealand for visiting Pakistan'.
It should be noted that Iftikhar Ahmed is also called by the title of Cha Cha.
Iftikhar Ahmed revealed in an interview that Babar Azam once called me uncle cricket during the tour of Zimbabwe which everyone heard in the stump mic, Babar Azam changed the fielding on my request and got a wicket, Babar Azam said that you are uncle cricket, when the match ended, the sound of uncle cricket was heard everywhere, I did not understand what happened, my friend told me that everyone heard it on the mic.