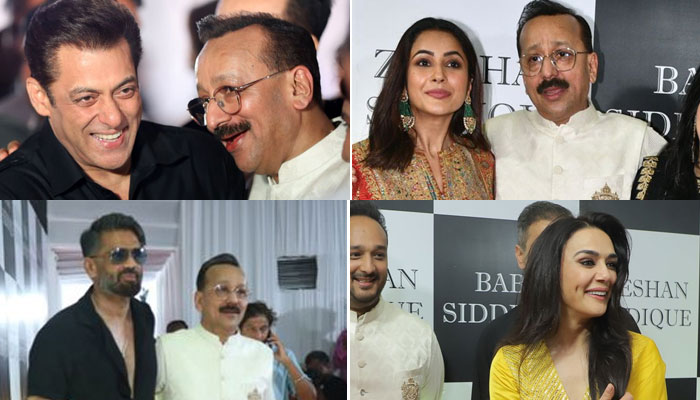 In India, every year in the month of Ramadan, Bollywood stars are invited to an iftar party by Baba Siddique, the pictures and videos of which are quite viral on the Internet.
Last year after a gap of 2 years from Baba Siddique Mumbai on 17th April 2022 An iftar party was held in honor of Bollywood stars and other celebrities in which Shah Rukh Khan, Salman Khan, Sohail Khan, Shilpa Shetty, Sanjay Dutt, Shahnaz Gul, Sana Khan and her husband and others attended and His pictures and videos were quite viral.
This year too, Baba Siddique organized an iftar party for famous personalities in which Salman Khan, Sunil Shetty, Shahnaz Gul, Bharti Singh, Urmila, Pooja Hegde, Ritesh Deshmukh and his wife Genelia D'Souza, Nargis Fakhri, Preity Zinta, Emraan Hashmi, Kapil Sharma, Sohail Khan and other artists participated.
The pictures and videos of the event are viral on social media and the fans of the film stars are very happy to see them together.
Who is Baba Siddique?
Baba Ziauddin Siddique is an Indian politician who has been a Member of Legislative Assembly (MLA) from Bandra West Vidhan Sabha constituency in the state of Maharashtra. He has been MLA for three consecutive terms in 1999, 2004 and 2009 and has also served as municipal corporator for two consecutive terms (1992–1997).
Baba Siddique is married to Shahzain Siddique and they have two children, daughter Dr. Arshia and son Zeeshan.
Apart from this, he is also friends with many Bollywood actors including Shah Rukh Khan, Salman Khan, Sanjay Dutt and others.
Baba Siddique's iftar party has been famous for many years, earlier only politicians used to attend it but gradually he started inviting Bollywood celebrities too and his iftar party became even more popular.