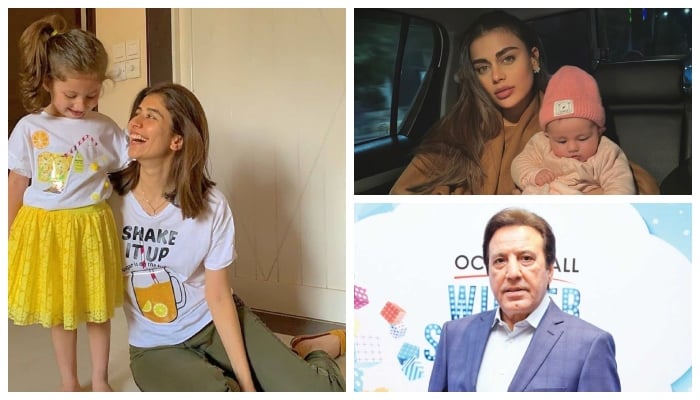 The well-known actor of Pakistani drama industry, Javed Sheikh, has described actress Saira Yusuf as an example for all women in Pakistani society.
Recently in a private TV program Javed Sheikh and morning show host Maya Khan participated, during the interview Javed Sheikh talked about divorces in his family in which the actor also mentioned Saira Yusuf and Shahroz Sabzwari. What did you mention?
Javed Sheikh said, 'A broken family of our family is Saira and Shahroz, Shahroz married Sadaf for the second time, now she also has a daughter (Zahra). Send home or not'.
The actor said 'The way Saira behaved in this kind of situation is unbelievable, I am amazed at the love these two girls have for each other, all credit goes to Saira'.
Javed Sheikh told about a story that happened recently that 'I went shopping and saw Saira coming from the front, and both girls Noreeh and Zahra were with her, this is a big thing and Saira's heart is that She brought Sadaf's daughter with her daughter'.
The actor added, 'When we got out, Zahra came on my lap and Noorieh was also standing with me, Saira told me you are standing, maam, I will take your picture and then I will send it to Shahroz.'
Javed Sheikh said, "If all people have this kind of thinking, the society will be better and the children of broken families will be well raised."
It should be noted that Saira Yusuf and Shahroz Sabzwari got married in October 2012, but both of them got divorced in February 2020. Saira and Shahroz have a daughter, Nurih.
Later in May 2020, Shahruz announced his marriage to model Sadaf Kanwal, the couple had a daughter 'Zahra' in August 2022.