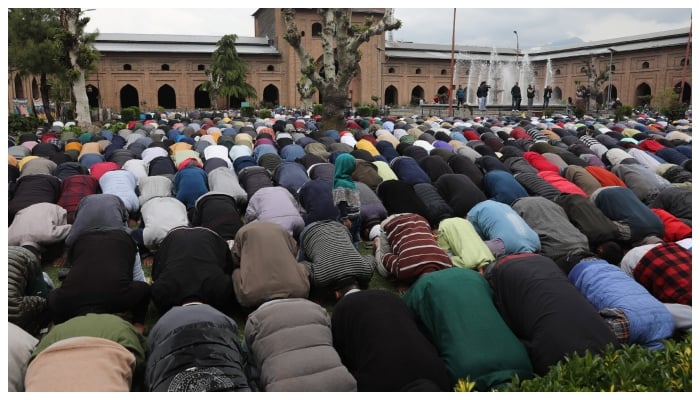 Today, Eid-ul-Fitr is being celebrated with religious devotion and respect in various countries of the world, including Occupied Kashmir.

Eid-ul-Fitr is being celebrated today in occupied Kashmir along with Pakistan, while Eid-ul-Fitr is also being celebrated today in India, Bangladesh, Iran, Malaysia, Thailand, Singapore, Australia, Brunei, Japan and the Philippines.
Eid-ul-Fitr was celebrated on Friday in Saudi Arabia, United Arab Emirates and other Gulf countries including Palestine, Lebanon, Iraq, Turkey and Afghanistan.
The largest gatherings of Eid prayers were held at Masjid al-Haram in Makkah, Saudi Arabia, and Masjid al-Nabawi in Madinah.
America and Canada also celebrated Eid-ul-Fitr on Friday, while in Britain and Europe this time, the community is divided, some celebrated Eid on Friday while others are celebrating today.
Civil war-torn Sudan celebrated Eid on Friday, with the army beginning to gain the upper hand in a nearly week-long battle with paramilitary forces.
Albania also celebrated Eid on Friday, while Qatar's World Cup stadium was filled with worshipers on Eid-ul-Fitr.