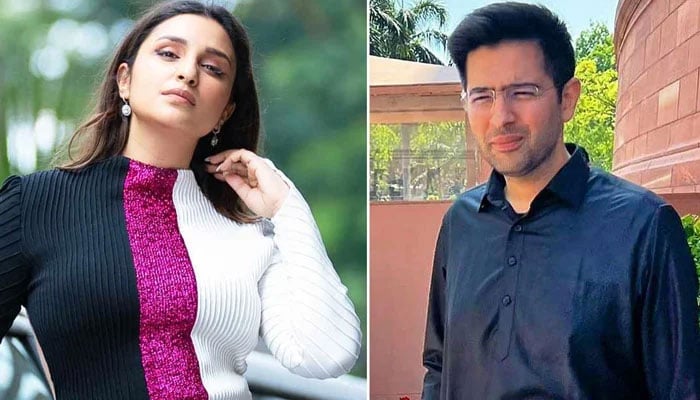 Bollywood actress Parineeti Chopra and Aam Aadmi Party leader and youngest member of Indian Rajya Sabha Raghav Chadha's engagement date has been revealed.
For the past several weeks, rumors of Bollywood actress Parineeti Chopra's marriage to Raghav Chadha have been in the media, but a few days ago, a claim was made regarding the engagement date of the two.
Indian media claimed that Parineeti and Raghav Chadha are likely to get engaged on April 10, but this claim turned out to be just a rumour.
However, now again the Indian media is making claims regarding the engagement of Parineeti and Raghav Chadha.
According to Indian media reports, on May 13, Preneeti and Raghav will officially announce their relationship by getting engaged in a private ceremony in New Delhi.
It should be noted that Raghav Chadha and Parineeti Chopra are old friends, both studied together at the London School of Economics, now everyone is waiting for the official announcement of their relationship.
Both were seen together in the hotel several times in the past few days, the videos of which went viral on social media.
Parineeti Chopra and Raghav Chadha have not spoken about their relationship so far, but recently Parineeti's co-star Viglo Kar Hardy Sindhu confirmed Parineeti's relationship with Raghav Chadha.
According to Indian media, while preparing for the release of his new song 'Yaad Aati Hai', Punjabi singer Hardy Sindhu confirmed in an interview that Parineeti's marriage is finally happening and he is very happy.