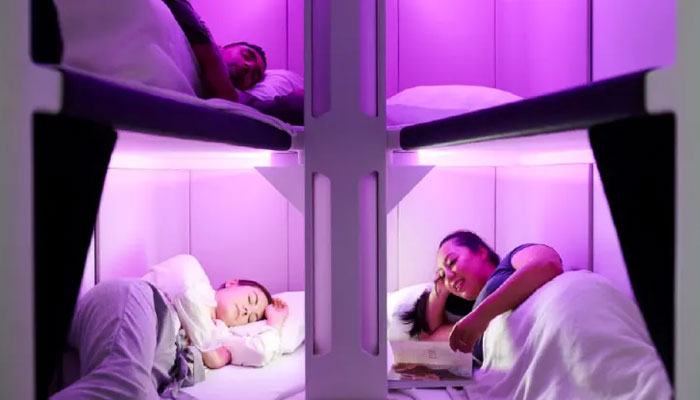 If you are traveling on a long flight, there are no reclining facilities available but you have to stay in your seat, especially for economy class passengers.

But that's about to change soon, and for the first time in the world, economy class passengers will have train-like beds.
Air New Zealand has announced a special arrangement for the comfort of economy class passengers.
From September 2024, these cabins will be available for passengers to sleep on flights from Auckland to the US.
Air New Zealand calls these beds SkyNest Sleeping Pods and it costs extra to rest on them.
4 hours of sleep is likely to cost between $250 to $380, while one hour of rest will cost $100 (over 28,000 Pakistani rupees).
For the privacy of the passengers, curtains will be placed on each bed while USB charging facility will also be available.
Each bed will be provided with amenities like pillow, sheet, blanket, earplugs and reading light.
Passengers will be able to book them only once and after 4 hours they will have to leave the seat for someone else.
The airline believes that Skynest will transform the flying experience for passengers traveling in economy class.