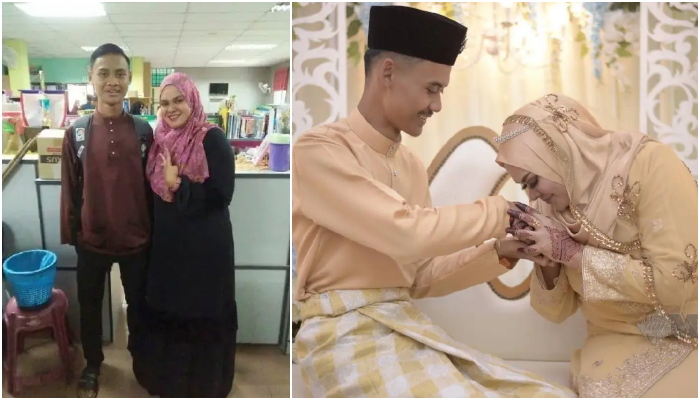 A 22-year-old in Malaysia surprised everyone by marrying his 48-year-old former teacher.
According to foreign media reports, a young man named Muhammad Daniyal says that he never thought that he would marry his teacher, Jamila Muhammad, who taught him at school.
According to Daniel, I first met Jamila in 2016 when I was studying in higher secondary school, she was my Malay language teacher, at that time I only had a student-teacher relationship with her.
The youngster said that as soon as I went to the next class, I lost contact with my teacher, Jamila, who was only seen from a distance in the school.
Daniyal says that until my 17th birthday, I didn't realize that I had feelings of love for Jamila Teacher, but when the teacher sent a congratulatory message on my birthday, that was when she made a place in my heart. And our contact was restored.
According to the young man, one day I expressed my feelings to the teacher but he rejected me citing his position as the main reason but I refused to give up and tried all ways to contact him. , I also kept messaging him on WhatsApp until he responded to my messages.
Daniyal says that finally fate took me to Jamila's house though she still refused to have a relationship with me but I still didn't give up and kept persuading her for a relationship till she agreed. Did not say yes to marriage.
According to the young man, we had decided to get married in 2019, but due to Corona, it had to be postponed till 2021.
According to Daniyal, two years ago, both of them had a small marriage ceremony in the mosque and they got married.
Despite the age difference of 26 years, Mohammad Daniyal said that age does not matter, but I am grateful to have found a spouse at such a young age.
The young man said that I am trying my best to fulfill my responsibilities as a husband and I still have a lot to learn. However, I am lucky to have a wife who supports me in every way and gives me advice.