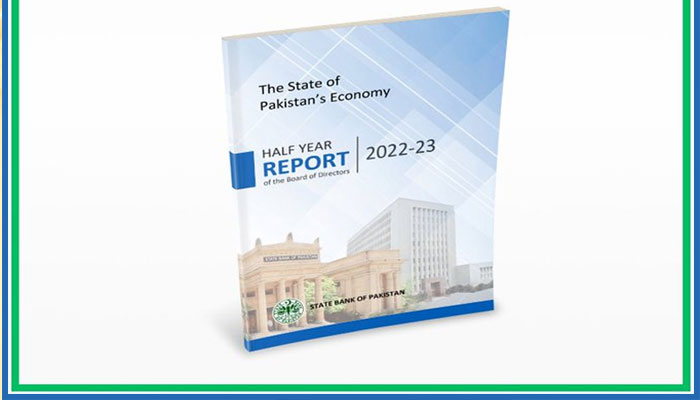 The State Bank of Pakistan released its semi-annual report on the economy, according to which, despite improvement in current account deficit and balance of payments, foreign exchange shortage remained a cause for concern.
State Bank's first on the economy for the current financial year Half-yearly report According to the country's economic situation has worsened during July to December 2022. Tight monetary policy has constrained demand, but floods, global economic conditions, uncertainty over the completion of IMF program reviews, foreign exchange shortages and political instability have exacerbated problems, which remain challenging to resolve.
According to the report, the agriculture and manufacturing sectors contracted in the first half of the fiscal year and general inflation remained at the highest level in decades. A slowdown in global demand and persistence of structural problems have pushed exports down over the past year.
According to the report, economic growth this year will remain below the revised estimate of 2 percent. Economic growth is due to decrease in imports. FBR's tax revenue has also decreased due to decrease in imports. The below-target growth in FBR taxes underscores the need to accelerate reforms.
According to the report, the pressure on the external account will continue due to scheduled payments, while the foreign exchange reserves will also decrease due to the decrease in external remittances.
According to the report, the average inflation rate for the current financial year is expected to be 27 to 29 percent. In order to reduce inflation, State Bank has increased the interest rate by 13%, out of which 6% increase has been made in the first 9 months of this financial year. These measures will reduce medium-term inflation expectations and improve economic stability.