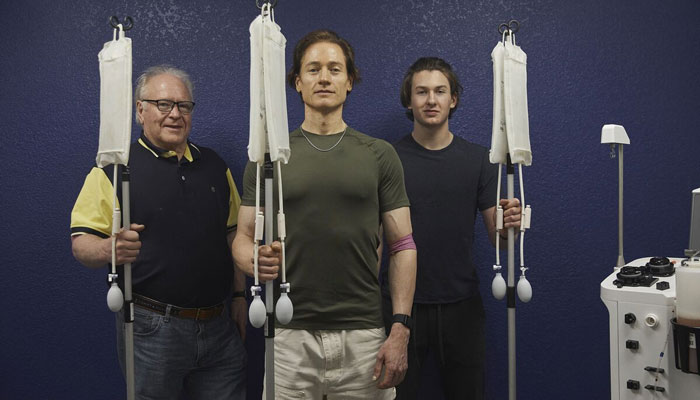 After the age of 40, physical functions begin to deteriorate rapidly, but a person wants to keep himself young by spending crores of rupees every year.

Brian Johnson, a 45-year-old CEO of a biotech company, wants to make his body look like an 18-year-old.
To stay young forever, the man transfused his young son's blood into his body.
Brian Johnson also transferred his blood into his father's body.
According to a Bloomberg report, Brian Johnson came to a clinic in the American city of Dallas with his 17-year-old son and 70-year-old father to complete the blood transfusion.
It wasn't the first time Brian Johnson had visited a clinic for a blood transfusion, he'd had the blood of young people become part of his own body before.
But until now, such blood donations were from anonymous individuals who were selected based on their body weight, diet and overall health.
However, now for the first time he chose his son for this process.
Earlier in January, a report suggested that Brian Johnson was working on a project blueprint to stay young forever.
For this purpose, Brian Johnson will spend 2 million dollars (more than 57 million Pakistani rupees) in 2023.
They claim to be close to the key to reversing aging.
They are spending millions of dollars every year from 2021 for this purpose.
Tests by doctors revealed that 45-year-old Brian Johnson's heart has aged 37 years and his skin has aged like a 28-year-old, while his lung capacity has become that of an 18-year-old.
The program is still in the experimental phase and is constantly being tweaked, but for Brian Johnson, a routine of diet, supplements, exercise and physical tests has been established.
Brian Johnson starts the day at 5 a.m. with 2 dozen supplements while his diet consists of solid and soft foods.
Consuming a total of 1977 calories per day, exercising daily while doing vigorous exercise 3 times a week.
There are also several physical tests every month.
"What I'm doing feels extreme, but I'm trying to prove that my dream is possible," Brian Johnson said.